By
CandidCupcake
on November 22nd, 2011 . Filed under:
Cupcake Ideas
.
Ever thought of turning a boring old meatloaf into a cupcake?  The Meatloaf Bakery in Chicago specializes in meatloaf cupcakes.  They have taken the average meatloaf recipe and turned it into something unique.
Check out this meaty Thanksgiving cupcake, made of lean ground turkey, fresh garlic, herbs, and Parmesan cheese and topped with stuffing.  Go here to check out some of their other original creations, including "El Loafo del Fuego" and "No Buns About it Burger Loaf".  I just might have to give this place a try since they're not too far away from me!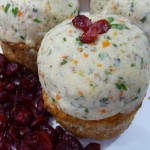 So, what are your thoughts? Would you try a meaty cupcake?