By
hungry runner
on October 20th, 2011 . Filed under:
Bakeries
.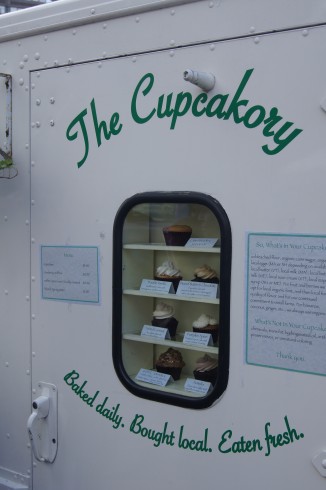 While visiting Boston last weekend I was amazed at how many food trucks can be spotted around the city!  Of course I tried several food trucks including a red velvet maple ice cream sandwich from Frozen Hoagies and at the SoWa Open Market I had The Green Munster Melt grilled cheese which consisted of munster cheese, homemade avocado and applewood bacon from Roxy's Gourmet Grilled Cheese.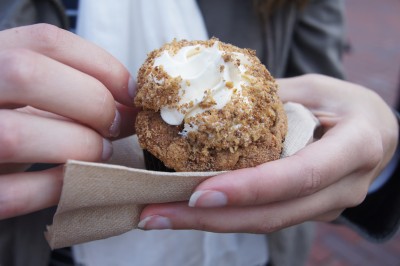 Most importantly at the Boston Book Festival I tried a cupcake from The Cupcakory, Boston's original cupcake truck.  Feeling seasonal I decided to try the Apple Crumble cupcake, shown at left.  A fresh apple cake with vanilla butter cream, rolled in a traditional baked apple crumble topping of oatmeal, brown sugar, butter, and autumn spices.  I enjoyed watching my cupcake be frosted and rolled in the apple crumble topping as opposed to being handed a pre-decorated cupcake.  The cupcake was delicious and despite not being a huge fan of whipped frosting I really liked the apple crumble topping. The best way to find The Cupcakory is to check their Location/schedule section on their website for follow them on Facebook and Twitter. Oh and don't you love their cupcake display window?