By
stayhomecupcake
on October 17th, 2011 . Filed under:
Cupcake Ideas
,
Decorating
,
Giveaways
,
Kids
.

 Cupcakes in the bathroom? Why not!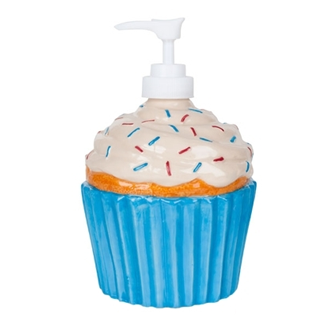 This week's giveaway sponsor is I'm With Cupcake and I am in love with their shop.  It is devoted to party items and all things cupcake.   They describe their shop as, "A place where the word cupcake is redefined to mean more than a small cake.  Here, cupcake means anything cute, fun, kitsch, and clever."   I am really trying hard not to be jealous about this week's prize!  How adorable is this cupcake soap dispenser?
 I'm With Cupcake is filled with sweet items that make great gifts for a loved one, or yourself.  Here are a few of my favs:
To enter this week's giveaway, click on the comment area below and tell us what you think a cupcake is.  You can give us a literal meaning or just what it means in your life.  One winner will be chosen on Monday, October 24.  Make sure to sign up for I'm With Cupcake emails on their homepage to receive coupon codes and sale notices.
Also follow them on Twitter and like them on Facebook.
Thank you I'm With Cupcake!