By
CandidCupcake
on October 13th, 2011 . Filed under:
Cupcake Ideas
.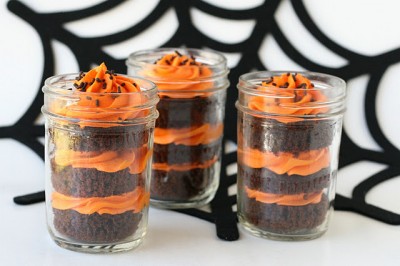 What's not to love about these cupcakes in a jar?  Here's what I love about them:
1. Easy to transport to a Halloween party, whether it's at school, work or someone's home.
2.  Much less mess, not only during transport, but also when eating (I don't know about you, but I really don't like it when I get icing all over my face after taking a bite of cupcake).
3.  It's unique.  We're all accustomed to seeing cupcakes in cupcake liners, but not everyone has seen them in glass jars.
4.  These would be fun party favors.  See cute idea with ribbon below.