By
cupcakeSerenity
on September 19th, 2011 . Filed under:
Artwork
,
Baby
,
Bed, Bath, Body
,
Gifts
,
Home Decor
,
Kids
.
Is there a baby shower in your future? Or a baby of your own? If so, then I have a super find for you! Check out this gorgeous nursury / crib bedding set! What's better than a new little cupcake falling asleep amidst a room full of cupcake decor?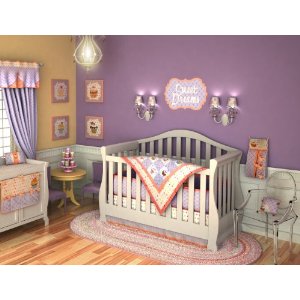 This set is new on the market, has a limited quantity, and is available from Amazon. For only $89.99, you get: embroidered cupcake quilt, crib bumper, two decorative pillows, fitted sheet, crib skirt, toy bag, diaper stacker, and two curtains. The bedding is 100% cotton. Color scheme includes lavender, salmon, magenta, mint, and yellow.
And if you really want to out-cupcake yourself, you can buy the matching wall art — stretched canvas wall art shown on the wall above, and here below. These cost $24.99 each or $74.99 for the set. That's a deal! Happy shopping!