By
cupcakeSerenity
on September 2nd, 2011 . Filed under:
Books
,
Gifts
,
Kids
.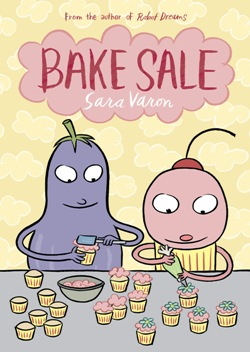 I am so excited to introduce you to Sara Varon, the immensely creative, cupcake lovin' author and illustrator of this new graphic novel, Bake Sale. Its intended audience is ages 8 and up, but Sara was sure to include some cupcake recipes for mom and dad.
The book was released on August 30th and is already making its mark with an evocative story about a cupcake who works in a bakery, while dreaming about traveling abroad to meet the pastry of his dreams, whom he saw in a cookbook, of course!
This is the perfect gift for the cupcake lover in your life! (And if you are shopping for a child, you might like to know that educators find graphic novels to be incredibly helpful to reluctant readers!)