By
The Cupcake Faerie
on August 6th, 2011 . Filed under:
Bakeries
.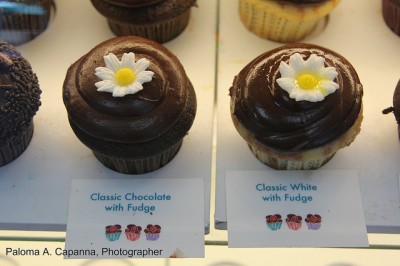 As I said in my bio (albeit jokingly at the time), I thought my spot with ATC might entice my parents to get into the act.  Sure enough, while visiting them, my mother and I went out on a cupcake expedition.  In Ridgewood, NJ, we found a local cupcakerie with flavors to spare.
Cupcakes by Carousel is on Main St. in Ridgewood, next to the movie theater.
The product line starts with "Classic White/Chocolate with Fudge" and "Red Velvet" and moves on to "Vanilla Dirt Worm" and "Chocolate Pretzel."  "Pink Marshmallow Snowball" and "Turtle" looked almost too pretty to eat.
The winners in our taste selection included "Key Lime Pie," which my mother said included candied lime, made by taking lime zest and packing it in sugar (the moisture makes the sugar adhere to begin with until it soaks in).
Dad had the gluten free vanilla cupcake with vanilla icing and gave it a thumbs up.  This is a new product line for Cupcakes by Carousel, and, from pans used only for gluten free to individual cupcake holders for gluten free, it's just the recipe for those with celiac disease.
I might just be going home to visit my parents again…soon!