By
hungry runner
on July 25th, 2011 . Filed under:
Cupcake Ideas
,
Gifts
,
Party Items
.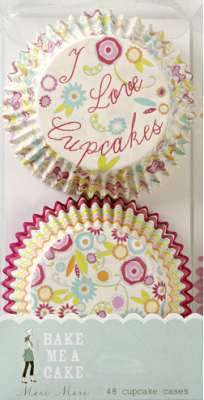 For my birthday, one of my friends went to our local Container Store to find cupcake packaging products that she gave as my gift.  The Container Store website does not offer the products but I was able to find them on other sites.  I can not wait to bake a batch of cupcakes and use my new Meri Meri Love Bake cupcake liners.  I was given the standard size liners which include two patterns that come in a package of 48 liners and can be purchased from the Meri Meri website for $4.25. The same patterns are available as mini liners, a package with 32 of each liner is $5.50.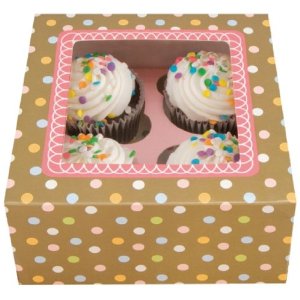 My friend also found cupcake boxes by The Gift Wrap Company in Candy Dot Spot.  Included in the package are two food safe gift boxes with an insert tray that holds four standard size cupcakes.  I found a 12 pack of the packages on amazon for $51.00.
The last birthday gift from The Container Store cupcake I received were these Baked Goods Labels by Girl of All Work.  The package contains 12 pink and gold labels that read "an edible gift" and 12 maroon seals featuring a whisk, a hen, and "enjoy" and costs $6.99.