By
hungry runner
on July 11th, 2011 . Filed under:
Cupcake Ideas
,
Recipes
.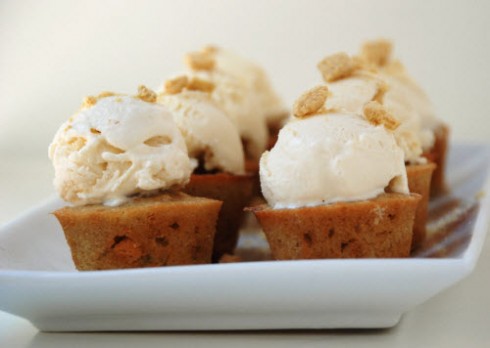 We've shared several ideas for how to turn your favorite breakfast foods into cupcakes.  Remember the pancake cupcakes, or the donut cupcakes? How about the cinnamon roll cupcakes?  Well until I came across this recipe I had not thought of turning breakfast cereal into cupcakes.  Multiply Delicious took a classic cereal and turned it into Cap'n Crunch Cookie cupcakes topped with vanilla ice cream.  Below is the recipe for the captain crunch cookie cupcakes but be sure to check out Multiply Delicious for other cupcake recipes!
Captain Crunch Cookie Cupcakes with Vanilla Ice Cream

1 1/2 cups all-purpose flour

3/4 tsp baking powder

1/2 tsp salt

1 cup (2 sticks) unsalted butter, at room temperature

1/2 cup sugar

1/2 packed cup light brown sugar

3 large eggs

1 tsp vanilla extract

1 cup milk

1 cup Captain Crunch cereal, crushed

1/2 cup white chocolate chips (optional)

Vanilla Ice Cream

Instructions:

Preheat oven to 375 degrees. Spray a mini muffin tin with nonstick cooking spray; set aside.

Whisk together flour, baking powder, and salt.

With an electric mixer on medium-high speed, cream butter and both sugars until pale and fluffy. Add eggs, one at a time, beating until each is incorporated, scraping down the sides of the bowl when needed. Beat in vanilla. Reduce speed to low and add flour mixture in two batches, alternating with the milk, and beating until combined. Stir in Captain Crunch cereal and white chocolate chips (if using) by hand.

Fill each cup with batter. Bake, rotating tins halfway through, until pale golden and cake tester inserted in centers comes out clean, about 20 minutes. Transfer tins to a wire rack to cool completely before removing cupcakes.

Once cupcakes are cool, top each cupcake with a scoop of vanilla ice cream and top with additional Captain Crunch cereal. Serve and enjoy!