By
hungry runner
on June 19th, 2011 . Filed under:
Cupcake Ideas
,
Decorating
,
Holidays
.
Happy Father's Day to all the cupcake loving dads!  Do you need a last minute Father's Day cupcake idea? How about these lawnmower coconut cupcakes that Kiss My Spatula tweeked from Martha Stewart.  Made from died coconut and a variety of candy you'll be able to easily find the ingredients at your local grocery store.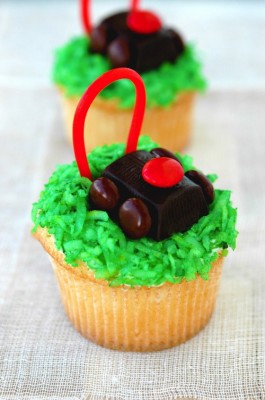 Ingredients
for cupcakes:

1 1/2 cups cake flour (not self rising), or all purpose flour
1 tsp baking powder
1/2 tsp salt
1 1/2 sticks unsalted butter, room temperature
1 1/8 cups sugar
1/4 teaspoon pure vanilla extract
1/2 cup coconut milk
4 large egg whites
3/4 cup shredded sweetened coconut

for frosting:

3/4 stick unsalted butter, softened
1 3/4 cups confectioners' sugar
1 tablespoon milk (optional)

for toppings:

Flaked coconut
Green food coloring
Hershey's Nuggets
M&M's
Red or black licorice laces

Method
for cupcakes:

Preheat oven to 350 degrees. Line one standard 12-cup muffin pan with paper liners; set aside. In a medium bowl, whisk together flour, baking powder, and salt; set aside.

In the bowl of an electric mixer fitted with the paddle attachment, beat butter and 1 cup sugar until light and fluffy, 3 to 4 minutes, scraping down sides of the bowl as needed. Beat in vanilla. With mixer on low speed, add flour mixture in three parts, alternating with the milk and beginning and ending with the flour; beat until just combined. Transfer mixture to a large bowl; set aside.

In the clean bowl of an electric mixer fitted with the whisk attachment, beat egg whites on low speed until foamy. With mixer running, gradually add remaining 1/8 cup sugar; beat on high speed until stiff, glossy peaks form, about 4 minutes. Do not over-beat. Gently fold a third of the egg-white mixture into the butter-flour mixture until combined. Gently fold in remaining egg-white mixture; stir in shredded coconut.

Divide batter evenly among the muffin cups, filling each with a heaping 1/4 cup batter. Bake, rotating pans halfway through, until the cupcakes are golden brown and a cake tester inserted in the center of a cupcake comes out clean, 20 to 25 minutes. Transfer pans to a wire rack. Invert cupcakes onto rack; then re-invert and let cool completely, top sides up.

for frosting:

In a mixing bowl, cream butter until smooth.  Gradually add confectioners' sugar; beat until smooth. If too thick to spread, beat in up to 1 tablespoon of milk, 1 tsp at a time.

Assembly

For each cupcake, mix a handful of flaked coconut with a few drops of green food coloring. Press a frosted cupcake into the coconut to cover.

The mower is made with a dark chocolate Hershey's Nuggets body, brown M&M's wheels, and a red M&M's engine, held in place with dabs of frosting.

Shape the handle from a piece of red licorice lace, then insert the ends into the cupcake.