By
hungry runner
on June 18th, 2011 . Filed under:
Cupcake Ideas
.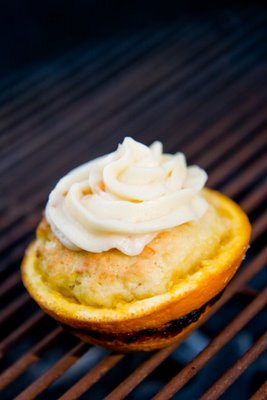 These orange grilled cupcakes have been on my "to-bake" list for some time now.  Now that it is summer, and it is H-O-T outside, it is the perfect time to attempt these cupcakes by Stef from Cupcake Project.  Even though I have never grilled anything I think cupcakes is the perfect food to start with, right?  For these cupcakes you grill the cupcake batter directly in the orange halves! Just be careful if you use a cupcake pan, Stef said that her pan charred. Below are the instructions for grilling, if you would like the vanilla cupcake recipe that she used and some more tips, check out the origianl post.
Cut the oranges in half and scoop out the insides. You don't have to be perfect about it. If there is some orange left in there it will just be a tasty treat at the bottom of your cupcake.
Fill the orange halves 3/4 full with cupcake batter.
Place the oranges in foil directly on the wood or coal as shown in the picture on the left or set the oranges in a cupcake tray on the grill as shown in the picture on the right. I tried both methods. I think the cupcake tray worked better but the tray got a bit charred and is a pain to clean. Use an old one if you have one.
Monitor the cupcakes really closely. The cooking speed will vary depending on the heat of your grill. You may also need to rotate the tray or the individual cupcakes to account for uneven heat. You know they are done when a toothpick comes out dry. It took mine about 10 minutes to cook.