By
HeatherLynn
on June 17th, 2011 . Filed under:
Cupcake Ideas
.
Finally, after a 39 year 'drought' the Boston Bruins finally won the Stanley Cup  this past Wednesday! After a fierce 7 game series with the Vancouver Canucks the Bruins shut them out 4-0! Being from New England, I was very excited, as were most of my family members and friends, when they finally won.
What would be a better way to celebrate the Bruins victory but with cupcakes! Megan from Delicious Dishings did just that (well she celebrated early) but she celebrated none-the-less.
Boston Bruins Black And Gold Cupcakes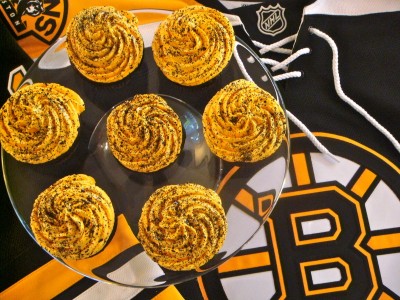 Way to go Bruins!