By
hungry runner
on June 10th, 2011 . Filed under:
Blogs
,
Cupcake Ideas
,
Recipes
.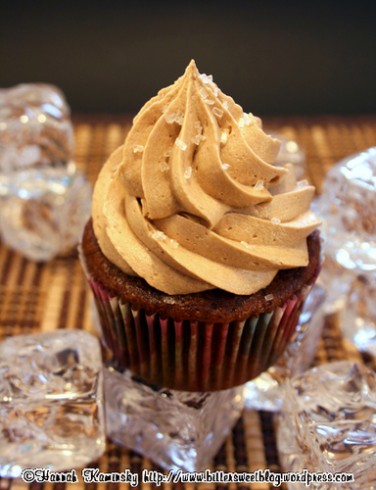 Happy National Iced Tea Day everyone!  What better way to celebrate this fun little holiday then with this Iced Tea Cupcake recipe found via Tastespotting.  Hannah from BitterSweet blog created this cupcake recipe that seems perfect for today, especially since here in the south it's 95oF outside!   They also seem like a good recipe for fathers day, which is only 9 days away! 
Iced Tea Cupcakes

1 Cup Plain Soymilk

1 Tablespoon Fresh Lemon Juice

1/3 Cup Canola Oil

1 1/4 Cups All Purpose Flour

1/2 Cup Instant Unsweetened Iced Tea Mix

2/3 Cup Granulated Sugar

1 1/2 Teaspoons Baking Powder

1/2 Teaspoon Baking Soda

1/2 Teaspoon Salt

Lemon-Iced Tea Frosting

1/2 Cup Margarine, at Room Temperature

3 Cups Confectioner's Sugar

1/2 Cup Instant Unsweetened Iced Tea Mix

1/2 Teaspoon Lemon Zest

2 – 4 Tablespoons Fresh Lemon Juice

Preheat your oven to 350 degrees and line 12 muffin tins with cupcake papers.

Whisk together the soymilk, lemon juice, and oil in a large bowl, and let sit for about 5 minutes.

Meanwhile, in a separate bowl, combine the flour, iced tea mix, sugar, baking powder and soda, and salt so that all of the dry ingredients are well distributed. Add the dry goods into the wet, and stir just enough to incorporate everything and get out most of the lumps. Distribute the batter equally between your prepared tins, and bake for 18 – 22 minutes, until a toothpick inserted into the center of each cupcake comes out clean. Let cool completely before frosting.

To make the frosting, simply place the margarine, confectioner's sugar, tea mix, and lemon zest in the bowl of your stand mixer, and start it on low speed. Slowly add in the lemon juice one tablespoon at a time, increasing the speed once the sugar is mostly incorporated. Whip on high for about 4 minutes, until light and fluffy. Apply to cooled cupcakes, and top with coarse sugar or pearl sugar if desired.