By
The Cupcake Faerie
on June 3rd, 2011 . Filed under:
Bakeries
,
Cupcake Ideas
,
Photos
.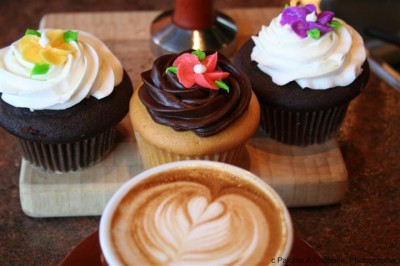 Is there anything better than a cupcake and a cappuccino? The combination of sweet and strong creates its own special mood.
Today, I was at the Baker Street Bakery on Park Avenue in Rochester, NY. Park Avenue is a trendy, long street, of multi-colored houses converted into individual shops. The smell of sugar, baking in the oven, was wafting out the open door. I was treated to a tour of cupcakes – these were the ones with an airy French buttercream – and the assurance that everying at Baker Street was made from scratch.
So I asked Mary Ellen Leonardo, one of the owners for the secret of the perfect cupcake.
"Love!" was the shout-out from one of the bakers.
From there, I knew exactly where to go for my cappuccino on the side.
Baker Street Bakery
745 Park Avenue Rochester, NY 14607 (585) 241-3120