By
cupcakeSerenity
on May 22nd, 2011 . Filed under:
Bakeries
.
Guess what I'm doing right now. Yep. I'm eating a piña colada cupcake from the Cupcake Fetish Bakery in Sanford, Maine for breakfast.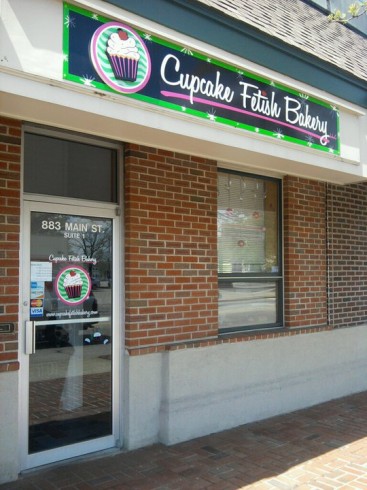 Hello. My name is Robin and I have a cupcake fetish.
I have just found my new favorite cupcakery. Owners Amy and Jen were so gracious and enthusiastic, it was like stepping into a cupcake dream. And because we purchased a dozen rock star cupcakes, the dream is still going strong. My friends and I sampled and shared the cupcakes and argued over which ones were the best. My votes were for the pink lemonade or the red velvet revolver, but other folks were raving about the "car bomb" — chocolate stout cake with a ganache center, topped with Bailey's buttercream frosting and a maple whiskey drizzle. This cupcake was long gone before I could get my fork into it, but those who were fortunate enough to get a bite were raving about it for hours. My husband was particularly taken by the "MegaDough," a vanilla cupcake with eggless cookie dough filling, topped with vanilla bean buttercream frosting and a cute little chocolate chip cookie. But none of the cupcakes disappointed anyone, so if you live in New England, you must make a trip to Sanford. If you don't live in New England, you should move there. These cupcakes are that good. Plus, winters aren't as bad as people say.