By
applecupcake
on April 28th, 2011 . Filed under:
Decorating
,
Party Items
.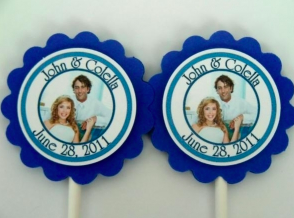 Have you ever wanted to create cupcakes for a special occasion that really seem to celebrate the recipient?  I can think of many birthdays and celebrations where I have wanted to really give a personal touch to my cupcakes, but sometimes you just don't have time to cut up 2-3 dozen pieces of cardboard, then inner cardstock and finally creating and cutting up those photos as well!
Well if you are in this situation, or just want to create something professional, then these toppers from Diva Entertains are seriously worth checking out, inexpensive and customizable, what more could you ask for?  Okay, ready cooked cupcakes wouldn't go astray, but hey, that is where you can add your signature stamp!