By
stayhomecupcake
on April 4th, 2011 . Filed under:
Cupcake Ideas
,
Giveaways
,
Jewelry
.

This week our giveaway is from longtime ATC friend, Sweet Bling.  They specialize in cupcake tees and beautiful charms. 
Being that this month is Autism Awareness Month, Sweet Bling is donating 10% of the proceeds from three of their cupcake charms go directly to TERI (Training, Education & Research Institute) Inc.   Teri is a non-profit agency serving the needs of children and adults with autism and other developmental and learning disabilities and their families.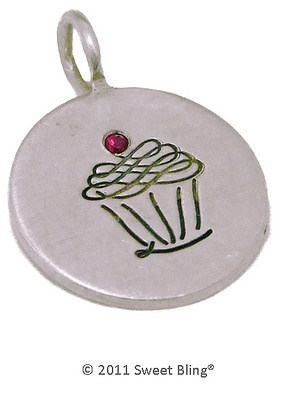 To help in getting out the word about Autism Awareness, Sweet Bling is giving away their One Haute Cupcake Hand Stamped Cupcake Charm to one lucky fan! 
 To enter this giveaway, click on the comment area below and tell us what is your favorite item from Sweet Bling's shop.  OR click on the comment area below and tell us how autism has affected your life or the life of a loved one. 
One winner will be chosen on Monday, April 8th.