By
cupcakeSerenity
on March 29th, 2011 . Filed under:
Announcements
,
Contests
,
Recipes
.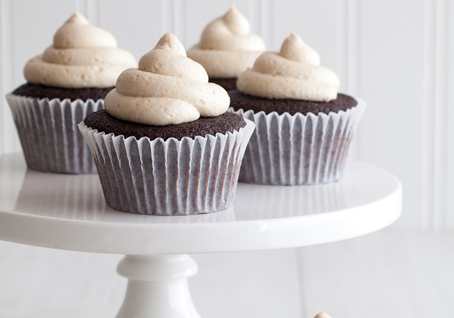 A while back, we brought you news of the Scharffen Berger Cupcake Adventure Contest! Well, the winners are in. The rules were that bakers had to create an original cupcake recipe that included one of several "adventure ingredients."  Among the choices were: stout beer, ricotta, adzuki bean, fresh beet, chili pepper, and coffee beans. Talk about adventurous!
The crazy part? All three of the winners chose Stout Beer as their adventure ingredient. In fact, the first prize cupcake, the "You Make Me Wanna 'Stout' Cupcakes" featured Stout in four different ways: batter, filling, reduction and frosting! Now that's adventurous!
The judging panel included Top Chef: Just Desserts guest judge and award-winning chef Elizabeth Falkner; Scharffen Berger chocolate co-founder John Scharffenberger; chocolate expert and award-winning cookbook author Alice Medrich; award-winning food blogger, photographer and art director Matt Armendariz of MattBites.com; and baking expert and blogger Angie Dudley of Bakerella.com. Cupcakes were judged on creativity, spirit of adventure, ease of preparation, appearance and flavor.
Click here for the winning recipes! And congrats to all the winners from ATC!