By
hungry runner
on March 19th, 2011 . Filed under:
Blogs
,
Cupcake Ideas
,
Recipes
,
Vegan
.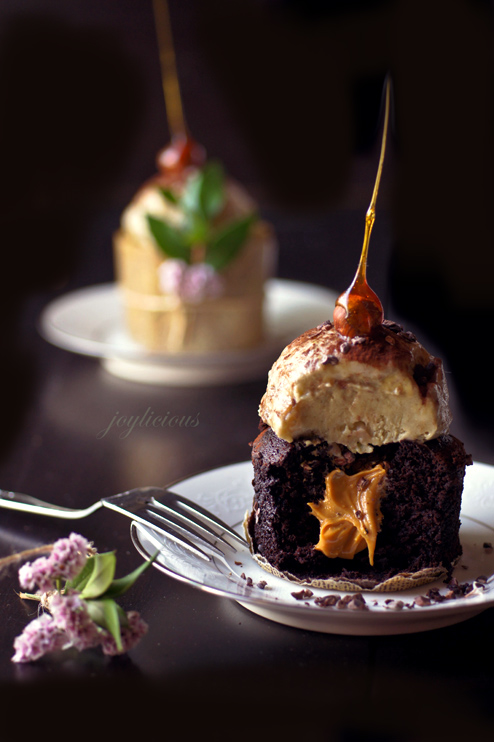 I have yet to try vegan cupcakes but if they taste as good as these cupcake by Joylicious look, I'm sure I will love them!  These cupcakes, called best vegan chocolate cupcakes with vegan banana ice cream combine three things I love, chocolate, peanut butter and bananas.  The best part is that they not only look delicious but actually sound healthy.  I've always thought vegan recipes would be hard to make but after reading the ingredients and directions these actually sound doable.  Below you will find the recipe for the cupcakes but for the banana ice cream you will have to read Joylicious's original post!  While there be sure to look around, I noticed a (non-vegan) mini pumpkin spice cupcake recipe that also looks amazing.
Vegan Chocolate Cupcakes (8-10 cupcakes)

1 1/4 cups flour
1 cup sugar
1/3 cup unsweetened cocoa powder, I highly recommend you using Valrona (yes it makes all the difference in the world)
1 teaspoon baking soda
½ teaspoon salt
½ cup warm water
½ cup brewed coffee
1/3 cup vegetable oil

1 teaspoon distilled vinegar

1 ½ cups all-natural peanut butter, room temperature
½ cup honey
Cocoa nibs and cocoa powder for garnish

Mix peanut butter and honey together in a bowl until combined.  Set aside until ready to use.

Preheat oven at 350F.

In a large bowl mix the flour, sugar, cocoa powder, baking soda and salt together until well incorporated.  Add water, coffee, oil and vinegar into dry mixture, mix until fully blended.  Fill muffin pan with liners and fill with batter ¾ the way full.  Bake in oven for 22-25 minutes, or until a toothpick comes out clean.  Place on rack to cool.  Using a paring knife or tiny circular pastry cutter (1"-1.25") cut out a hole in the center of each cupcake for the peanut butter filling.
Take banana ice cream out and set aside.  Fill each cupcake with peanut butter mixture up to the top and scoop banana ice cream on top.  Garnish with cocoa nibs and cocoa powder.  Serve immediately and eat often.