By
applecupcake
on March 15th, 2011 . Filed under:
Recipes
.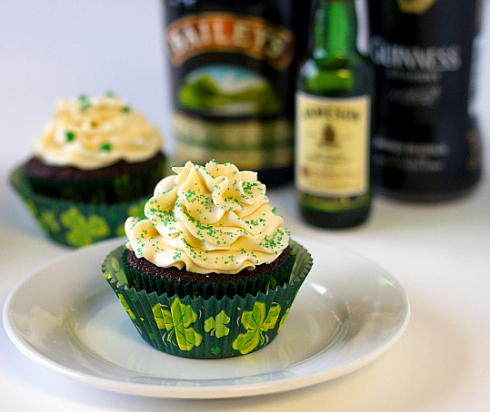 St Patricks Day is just around the corner, and well although I am not Irish I am keen to celebrate for any reason at all.  Countries such as India fascinate me because every week there is a new celebration… but being Australian, I settle for the fact that we constantly seem to have some home grown festival to celebrate, and where there is a gap in the calendar, we look to our multicultural heritage.
So last week was National Women's Day, and this week is St Patricks Day, and in trying to find the perfect cupcake to bake for our humble celebration at work on Thursday, I stumbled onto the Brown Eyed Baker, a website I often frequent, who has created her St Patty Cuppies which are called 'Irish Car Bomb Cupcakes'.  But it is not just these fantastically boozy cupcakes she has, but a whole selection of St Patrick's treats including beer waffles with cinnamon-caramel apples, guinness milk chocolate ice cream, Irish brown bread and more.
For me though, the cupcakes will be perfect!! Recipe can be found here!