By
stayhomecupcake
on March 11th, 2011 . Filed under:
Cupcake Ideas
,
Kids
.
Well, you all know that cupcakes are one of my greatest loves in life but coming in second has to be Disney.  My family and I proudly consider ourselves "Disney Freaks" and make at least one yearly trip to Disney World.  Pin collecting and trading is very popular with many Disney fans. There are clubs and websites dedicated just to this hobby.  I may not be a diehard collector, but after Facebook fan Lori posted these pins on our Facebook page, I had to go collect this set.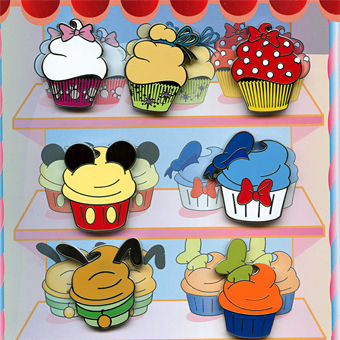 Each cupcake is fashioned to resemble a Disney character; Marie, TInkerbell, Minnie, Mickey, Donald, Pluto and Goofy.  Their official release date was yesterday March 10th but so far the only place I have been able to find them is on Ebay for around $25-$30.   Thanks for spotting this great cupcake find Lori!