By
cupcakeSerenity
on March 5th, 2011 . Filed under:
Artwork
,
Blogs
,
Gifts
,
Home Decor
.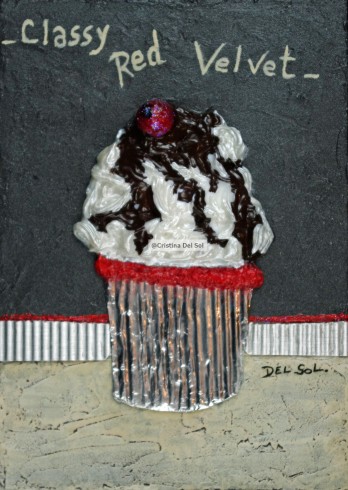 It is a pleasure for me to introduce ATC readers to Cristina Del Sol, an award-winning Canadian mixed media and experimental visual artist with a soft spot for cupcakes.
Cristina is a unique artist, who paints as a way of exploring and experimenting. Her art serves as a journal of her life's journey. For Cristina, art is a form of meditation, one that connects her to herself, the world around her, and the people who see her work. Cristina believes in, advocates for, and shares the healing power of art.
While her finished product is always captivating, it is her process that leaves me in awe. Her cupcake paintings are so much more than paintings – they are three-dimensional creations, using a variety of material ranging from cardboard to copper. She builds the base and the toppings of her art cupcakes much like the real ones, sometimes even piping the "frosting." I wish I could watch her work!
Learn more about Cristina at her website: Cristina Del Sol. You can also view (and shop for) her art, much of it "cupcake-inspired," at her Etsy shop: Cristina's Fine Art Store or her blog: Cristina's Daily Paintings.