By
hungry runner
on March 4th, 2011 . Filed under:
Cupcake Ideas
,
Recipes
.
I have heard of "one-bowl" recipes that make clean up a cinch because you combine all ingredients in one bowl.  But until now I had not heard of  food processor cupcakes.  Sophistimom made these Vanilla Bean Cupcakes with Strawberry Buttercream Frosting in the food processor.  Yes, even the frosting is made in the food processor and she claims that if you make the cupcakes as mini's you can have cupcakes baked from scratch and decorated in under 30 minutes.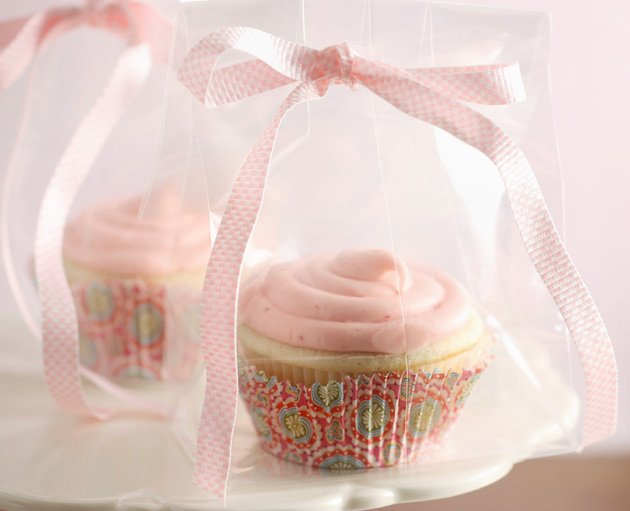 vanilla bean cupcakes

1 2/3 cup all-purpose flour

1/2 teaspoon baking powder

1/4 teaspoon baking soda

1/2 teaspoon salt

1 cup sugar

1 stick butter, melted

1 egg

1/4 cup sour cream

3/4 cup milk

1 1/2 teaspoons pure vanilla extract

seeds scraped from one vanilla bean (these can always be left out, and the cupcakes will still be delicious)

1. Preheat oven to 350 degrees. Line a standard muffin tin with cupcake liners. Combine all ingredients in a food processor fitted with the blade attachment. Fill cupcake liners slightly more then halfway full.

2. Bake for 15 minutes, or until center cupcakes bounce back when touched. Transfer to a wire rack and let cool completely. Frost with strawberry buttercream.

strawberry buttercream

3 large strawberries at room temperature

1 stick butter, at room temperature

1/2 teaspoon pure vanilla extract

3-4 cups powdered sugar

1 tablespoon heavy cream

In a food processor, pulse strawberries until pureed. Add in butter and vanilla, and about 2 cups of the sugar. Pulse until well combined. Incorporate cream. Add in small amounts of powdered sugar, pulsing after each addition, to reach the desired consistency. Frosting should be smooth and soft, yet hold its shape.