By
hungry runner
on February 7th, 2011 . Filed under:
Crafts
,
Valentines Day
.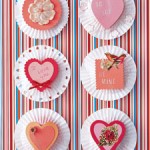 If you're looking for a homemade  valentine idea that's kid friendly these cupcake goodie valentines are just that! Martha Stewart came up with the crafty idea to create goodie bags out of cupcake liners to hold Valentine's Day treats.  Here are the steps:
1. Flatten two paper cupcake liners. Place one liner face up, and lay the other face down on top of it.

2. Lift the edge, and apply glue along a short section. Press to attach; let dry. Continue gluing in sections, leaving the last section open. Fill with candy; seal opening with glue.

3. Cut out heart or other shape from construction paper; add cut-out images, ribbons, or paper or fabric flowers, and write or stamp a note. Glue onto center.