By
HeatherLynn
on February 4th, 2011 . Filed under:
Cupcake Ideas
,
Cupcakes for a cause
.
Girl Scout cookies are one thing I will never pass up — Thin Mint, Samoa, need I say any more. And of course I love cupcakes, so when I saw this I said,"Yes Please"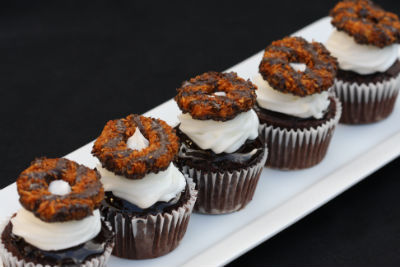 Duffy's Sports Grill and Girl Scouts or Southern Florida teamed up to create this lovely piece of work.It is a chocolate cake cupcake with chocolate ganache and butter cream frosting topped off with a famous Samoa.  They are 99 cents and for each one sold 50 cents goes right back to the Girl Scouts.
I wish I lived in Florida so I could try one of these.