By
stayhomecupcake
on January 31st, 2011 . Filed under:
Cupcake Ideas
,
Decorating
,
Giveaways
.
You may remember last week I introduced you to ATC sponsor Kimber Cakeware. They specialize in creating unique products that make baking easy and fun. Check out their Batter Babies and the fabulous cupcakes they can help you make:
The Batter Babies are quite simple to use, just follow these steps:
Simply place the Batter Babies in individual cups
Pour the two separate batters into each cup
Remove Batter Babies before baking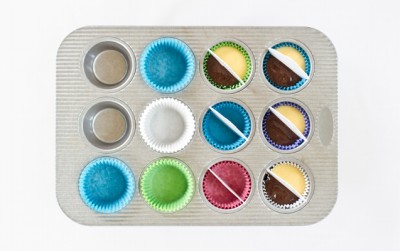 You can make cupcakes that are two different colors (think amazing red and green Christmas cupcakes) or 2 flavors (maybe a chocolate and a peanut butter dou!).  I tried these out last week and I have to say that they really are that easy and they really do make great cupcakes. 
This week, five ATC fans will get the chance to win a set of Batter Babies.  Yes, we will have 5 winners this week!  To enter, click on the comment area below and tell us what kind of cupcakes you would make first if you won the Batter Babies.  Winners will be chosen on Monday, February 8th.  Thanks to Kimber Cakeware for sponsoring this amazing giveaway!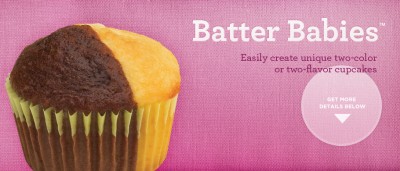 Make sure to become Kimber Cakeware's fan on Facebook too!