By
hungry runner
on January 9th, 2011 . Filed under:
Bakeries
.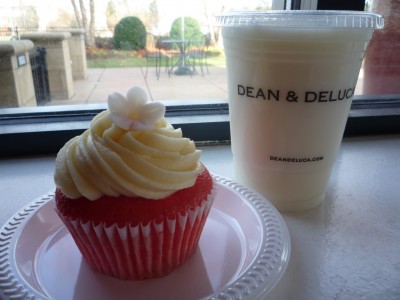 One of the good things about moving to a new place is there's lots of new places to try.  So moving to an area in South Carolina but close to Charlotte, North Carolina, for grad school means new cupcake spots to try.  For my first adventure I stuck to what I knew and went to Dean and Deluca, a gourmet food shop, for a snack.  They have such a great bakery display case that it was hard to decide on just one thing.
Instead of sticking to the usual, classic flavors I went for one of the unique ones and tried a Raspberry and Pink Champagne cupcake.  How can you pass up a hot pink cupcake?  The cupcake was really good.  The raspberry and champagne flavors complimented each other nicely.  The champagne flavor was very subtle and came across as a hint of yeast flavor.