By
hungry runner
on January 4th, 2011 . Filed under:
Blogs
,
Cupcake Ideas
,
Recipes
.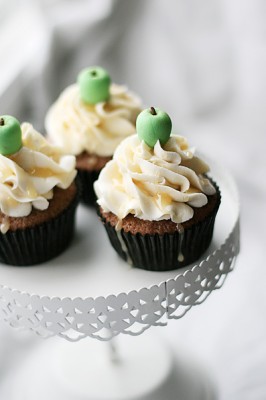 Call Me Cupcake has modified a Martha Stewart recipe to create these Apple Spice Caramel Cupcakes.  Not only does the recipe sound delicious but I love the little green fondant apples used to decorate the cupcakes! The blog is written in Swedish so I used Google Translate to convert the text to English for the recipe which can be found below.
Applesauce spice cupcakes
about 12 pc
• 1 cup flour
• 1 teaspoon cinnamon
• 1 / 2 teaspoon baking soda
• 1 / 4 teaspoon grated nutmeg
• 1 / 4 teaspoon cloves
• 55 grams softened butter
• 1 / 2 cup sugar
• 1 / 4 cup light muscovado sugar
• 2 large eggs
• 3 / 4 cup äpplemos
• 1 Granny Smith apple
Preheat oven to 175 degrees. Mix flour, baking soda, cloves, nutmeg and cinnamon in a bowl. Beat butter and both sugars until fluffy varieties in another bowl. Add one egg at a time and beat after each. Peel the apple and cut into pieces. Add the apple puree and then the flour mixture and beat on low speed. Stir gently into apple pieces. Divide batter among muffin cups, filling them about 3 / 4. Bake 18-20 minutes.
Swiss Meringue Buttercream
• 2 large egg whites
• 150 grams sugar
• 113 grams butter (not refrigerator cold but not quite room temperature)
• 1-teaspoon vanilla extract
Proceed as follows: 
Pour egg whites and sugar in a heatproof bowl, set in a water on the stove. The water in the saucepan to simmer. Beat constantly with a hand whisk, until mixture becomes about 65 degrees. Immediately remove from the heat. Beat mixture with electric mixer or using a kitchen assistant, until mixture is fluffy and white, like a meringue batter. Whisk until the mixture is cool, which can take up to 10 minutes. 
Then add the butter, a little at a time. After all the butter is added, whisk for 3 minutes. Add the vanilla extract (or other flavoring) and beat a couple of minutes until frosting is smooth.
Caramel sauce
• 0.5 cup sugar
• 0.5 ml cream
• 0.5 cup light syrup
Mix sugar, cream and syrup in a saucepan. Bring to the boil and simmer over low heat for about 5 minutes. Allow to cool.