By
applecupcake
on November 12th, 2010 . Filed under:
Birthday Ideas
,
Clothing
,
Party Items
,
Wedding
.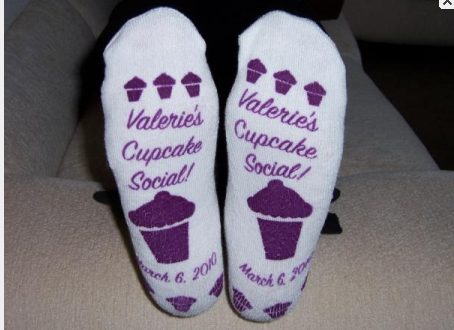 Got a no shoes policy at your home? or just want to provide a great take home gift for your girlfriends?  There is something so fun about these socks!
Okay if you don't know what I am talking about, it is Grippy Socks, you know those great winter socks that you can safely wear around the house (that is you'll stay upright).  But these are even better because they contain cupcakes on them and they can be personalised.
Instead of bird seed or a plastic take home gift from your wedding, you could provide something really useful and super fun in these socks!  Or generate your support for your cupcake cause or organisation by creating your own branded cupcake home footwear.  I am not sure though that they can replace shoes just yet in your bakery, but hey!
You can get these socks from ATC Sponsor Diva Entertains and best of all you can write text in both the top part of the sole and the bottom part as shown above.  Don't forget that you can also choose the colors of both the socks and the text!