By
hungry runner
on November 2nd, 2010 . Filed under:
Cupcake Ideas
,
Recipes
.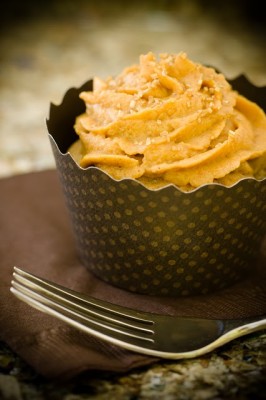 I know we have shared cupcakes with you from The Cupcake Project before but I could not resist sharing these apple cobbler cupcakes with pumpkin pie frosting.  Here's the recipe for the cupcakes:
1 1/2 C all-purpose flour
1 1/4 tsp baking powder
1/4 tsp baking soda
1/2 tsp ground ginger
1/2 C unsalted butter, room temperature
3/4 C brown sugar
1/4 C sugar
2 eggs
1/2 C sour cream
1/4 tsp lemon extract
2 1/2 C apples, roughly chopped and loosely packed (I like having the large chunks of apple in the batter – as shown above – but you can chop the apples more finely if you like a smoother look.)
In a medium-sized bowl, whisk flour, baking powder, baking soda, and ginger.
Beat butter and sugars in a large bowl until light and fluffy.
Beat in eggs, sour cream, and lemon extract until blended.
Mix in flour mixture.
Fold in apples.
Divide batter evenly among 12 cupcake liners (they will be filled almost all the way to the top).
Bake at 350 F for about 25 minutes or until a toothpick comes out of the cupcake clean.
For the frosting recipe, you'll have to visit the website!