By
applecupcake
on October 29th, 2010 . Filed under:
Bakeries
,
Events
.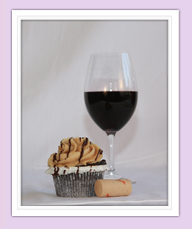 On November the 6th the first Wine & Cupcake Bar in Baltimore will be opened.  The venture is a collaboration of Emily's Desserts and Pizzazz Tuscan Grille which will see the restaurant transformed into a wine and cupcake bar on Friday and Saturday nights.
But do wine and cupcakes really go together?
Don't get me wrong, I love both, but I cannot think of a time when I have actually had them together.  Even when I eat out, I will always finish my wine with the main meal before commencing on dessert, and if I do drink with dessert it is usually a port or something sweet, like the aptly named 'dessert wine'.
But then I could be wrong, I sometimes am (just don't tell my kids), and wine and cupcakes could be perfect.
For more information, to get an invite to the grand opening, or to browse the wine and cupcake pairing menu, see Emily's Desserts here.  If you do happen to go and try some of these wines and cupcakes, let me know!  I would love to hear how it goes!