By
applecupcake
on October 27th, 2010 . Filed under:
Cupcake Ideas
.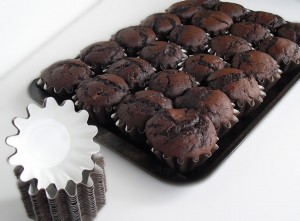 Okay I'm a little over the traditional round cupcake, I'm looking for something interesting, where are our square cupcakes, our star cupcakes, our oval and rhombus cupcakes?  Lets have diamonds and fleur de lys! We have giant, and we have mini, but lets see some more variety in the shape and design!
I guess the thing that is limiting is that the cupcake pan or muffin pan as it is more commonly known has round circles and although you may be able to find one that differs, you just can't find the liners which means lots of greasing the pan in a desperate hope that your cupcakes will come out cleanly.  So what is the solution?
Well I found one cool new product the other day on the Simply Caked blog, okay, so it is still slightly a circle, but I commend the design for a few key reasons.  It is different, with an interesting thick wobble edge, but also the liners are strong enough that you don't need your pan!
Thats great, so you can create your cupcakes in a cool new shape.  If I had these I would make toad in the hole cupcakes – I think it is the wobble edge that gives me the idea of jelly molds and water!  So imagine, bright blue water cupcakes, frosted with a blue butter cream and a chocolate frog in the centre.  It is like a jelly toad in the hole only better, because it is cupcake!
Simply Caked didn't go a watery theme, instead they went with a chocolate fudge and peanut butter frosting.  They look sooo yummy!  You can get these cups from ATC Sponsor Simply Caked here.  If you make some interesting cupcakes out of these, definitely let us know!