By
applecupcake
on October 15th, 2010 . Filed under:
Artwork
.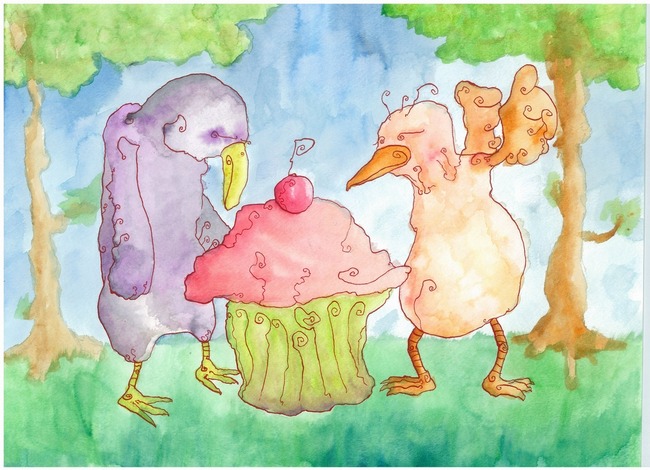 The thing I love about art is there is no right and wrong, anything and everything can be explored and the emotions it provokes in a viewer are as unique and individual about the art itself.  Even the cupcake is becoming quite a feature in paintings and drawings, for example who doesn't know about the very popular CakeSpy who has a huge following of fans.
It seems that Cupcake stores and Bakeries are starting to catch on, adding an ever changing kaleidoscope of color to otherwise plain walls.  In addition, it gives patrons something to look at while they wait, and lets face it, if you have waited in a 15 minute queue for your cupcake you deserve a bit of eye candy along with your cupcake!
Above we feature the talented Jonathan Arras who is an artist who has created a number of colorful pieces of art which he is currently showing at Common Ground Cupcakes for the next month.  Some of his art features cupcakes such as the image above titled 'Two Animals in Search of A Cupcake" but all are bright and colorful and perfect for a cupcake store.  His art is on sale in the store which is located in Renton WA or you can see his work on his website, Spirals In Love.
What do you think?  Do you want to see more art in cupcake stores, or is the cupcake counter your only focus?