By
hungry runner
on October 8th, 2010 . Filed under:
Blogs
,
Crafts
.
Sasha from The Gilded Bee was recently a guest blogger on Oh, Hello Friend while Danni is away on her honeymoon.  Sasha's post was a tutorial on how to make paper carnations out of cupcake wrappers.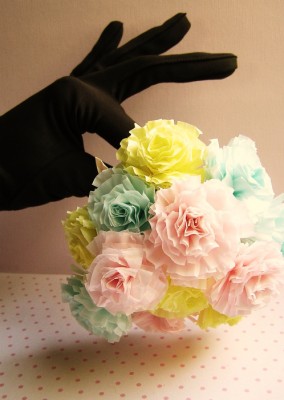 I have included the instructions but for the step-by-step pictures that go along with the written directions or variations on the project you will have to check out the original blog post.
HOW TO MAKE PAPER CARNATIONS:
Supplies to make these flowers:
• paper cupcake/muffin liners
• cloth or paper covered florist wire
• wire cutters
• scissors
• hot glue gun and glue
1. to make this flower, I used 3 regular cupcake liners
2. make a cut down one side of the liner, then cut out the center (you only want the crinkled part of the paper)
3. along the outer edge, make little snips, space them about ½ inch apart, be sure not to cut any more than halfway through the paper.
4. repeat steps 2, and 3 with your other liners
5. with a dot of hot glue, tack one end of one snipped liner with the snipped edge at the top.
6. roll, keeping the paper even, tack with a little dot of glue every few inches to keep the paper from unravelling
7. repeat steps 5 and 6 with your other papers
8. with your fingertips, gently peel the petals back to form your flower