By
cupcakeSerenity
on September 29th, 2010 . Filed under:
Blogs
,
Cupcake Ideas
,
Halloween
,
Photos
,
Recipes
.
Looking for a fun idea for Halloween cupcakes, but don't want to sacrifice flavor?  Then hop on over to The Swell Life to see how it's done!  Alexa Westerfield, the creator of The Swell Life is a graphic designer by day and a craft addict by night, and obviously, an expert cupcaker. 
You will need: 
– 1/2 cup butter, softened
– 1 1/2 cups granulated sugar
– 2 eggs
– About 1 teaspoon orange powdered food coloring
– 1 cup buttermilk
– 2 1/2 cups White Lily all-purpose flour (sifted 3 times)
– 1 teaspoon salt
– 1 teaspoon vanilla
– 1 teaspoon orange extract
– 1 tablespoon vinegar
– 1 teaspoon soda
Directions:
Beat together softened butter and sugar. Add food coloring and eggs. Beat well. Add buttermilk, flour, salt, vanilla and orange extract. Mix well. Stir in the vinegar by spoon . When well-blended, add soda. Mix well. Pour batter into cupcake liners. Bake 18 to 24 minutes at 350 degrees. Let cakes cool before icing.
Wilton Buttercream Frosting
You will need:
– 1/2 cup solid vegetable shortening
– 1/2 cup (1 stick) butter or margarine softened
– 1 teaspoon clear vanilla extract
– 4 cups sifted confectioners' sugar (approximately 1 lb.)
– 2 tablespoons milk
Directions: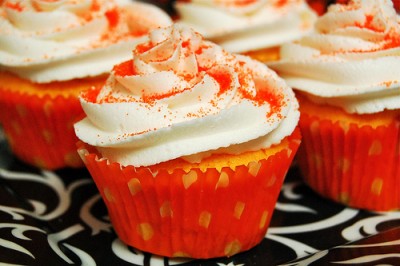 In large bowl, cream shortening and butter with electric mixer. Add vanilla. Gradually add sugar, one cup at a time, beating well on medium speed. Scrape sides and bottom of bowl often. When all sugar has been mixed in, icing will appear dry. Add milk and beat at medium speed until light and fluffy.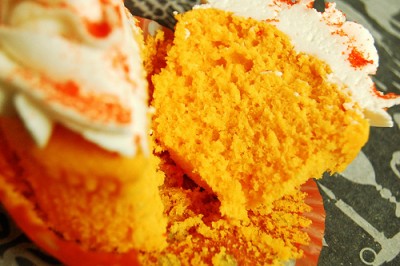 Aren't they gorgeous? 
Thank you Alexa for allowing us to share your cupcake brilliance!