By
cupcakeSerenity
on September 10th, 2010 . Filed under:
Blogs
,
Cupcake Ideas
,
Recipes
.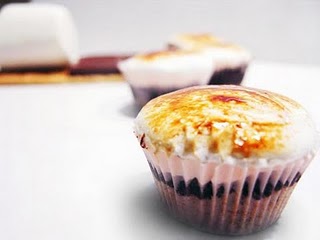 A big thanks to The Twisted Kitchen for allowing us to share this ultracool recipe with you!  Everyone loves S'mores, right?  And how often do you get to use a blowtorch in the kitchen?
S'more Cupcakes
Makes 12 cupcakes and 12 mini cupcakes (approx.)
General notes (before cooking):
I used milk chocolate chips to try to get as close to the flavor and texture of the chocolate as possible yet still have a brownie.
I highly recommend using cupcake liners for this. I made a few without them, and they were a bit difficult to get out of the pan.
Be careful when "toasting" the marshmallow frosting. Those cupcake liners tend to be HIGHLY flammable.
It is extremely important you don't overfill the cupcake liners. I know it's tough, but resist! The frosting is incredibly sticky and soft, and needs the liners to set properly.
For the Graham Cracker layer:
1 cup graham crackers
¼ c. sugar
¼ t. cinnamon
1/3 c. melted butter
Preheat oven to 350. Combine all ingredients and mix well. Mixture should be a little wet. For the cupcakes, place about 1 T. in the bottom of cupcake liners. For the mini cupcakes, place about 1 t. in the bottom of the liners. Press firmly in liners. Bake 5 minutes for the mini's, and 7-8 minutes for the cupcakes. Let cool while you make the brownie mixture.
Brownies (adapted from Fine Cooking):
5 T. softened butter
1 oz. unsweetened chocolate
2 ½ oz. bittersweet chocolate                                                                                                                                                                                                               ½ c. sugar
Pinch salt
½ t. espresso powder
1 egg, at room temperature
1/3 c. all purpose flour
½ c. milk chocolate chips (or one milk chocolate bar, cut in pieces the size of a chocolate chip)
In a double boiler (or the microwave), melt the butter and chocolates together until just melted. Cool slightly. Whisk in the sugar, salt, vanilla, espresso powder, flour, and egg. Fold in chocolate chips. Place on top of slightly cooled graham cracker layer, having the brownie layer go up no more than 2/3 the way in your cupcake liner.
Bake in the preheated oven 13-18 minutes for the mini cupcakes, and 20-25 minutes for the regular cupcakes. Use a toothpick to see if your brownies are done. Set wire rack to cool before beginning frosting.
Marshmallow frosting (adapted from Alton Brown Marshmallow Recipe):
1 package unflavored gelatin
1/3 c. cold water
½ c. sugar
1/3 c. corn syrup
¼ t. salt
½ t. vanilla
In the bottom of your mixing bowl, place ½ of the water. Sprinkle the gelatin over the water and let set.  Combine remaining water, sugar, corn syrup, and salt in a medium saucepan. Heat over medium high heat until a vigorous boil (240 degrees on a candy thermometer). Remove from heat.
Turn the mixer on low, and slowly add the hot sugar syrup. Be careful to pour down the side of the bowl and not on the beaters (it could splash back on you if you pour on the beaters). Increase the speed to high and mix for 10-15 minutes until mixture is cool (a little warmer than room temperature) and white and fluffy. Add vanilla and mix one more minute.
While your marshmallows are mixing, prepare a piping bag and a rubber spatula to work with the mixture. I lightly sprayed the inside of a piping bag with cooking spray, as well as the spatula. It's easiest to pipe with a plain tip and not try for a pattern, as it won't set into a pattern. It's also easiest to place your piping bag inside a tall glass to fill (one of those HUGE 32 oz glasses fits my piping bag almost perfectly).
As soon as you are finished beating your marshmallow mixture, quickly fill your piping bag with your marshmallow and pipe on the top of your cupcakes. Fill to the top, and don't overfill (the marshmallow will ooze over the sides). Let cool and set.
Just before serving, place under a broiler to brown the top, or brown the top with a blow torch. Serve with the marshmallow warmed.