By
cupcakeSerenity
on September 9th, 2010 . Filed under:
Blogs
,
Books
,
Reviews
,
Vegan
.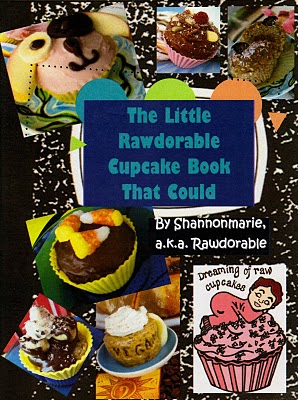 The raw vegan diet seems to be all the rage lately.  Eating raw foods is uber-healthy and good for the planet too.  And "raw foodists" often claim that one doesn't have to go 100% raw to reap the benefits of consuming raw foods.  Do I want to be healthy?  Of course!  Am I willing to give up cupcakes in order to go raw vegan?  Uh …
Well, thanks to Shannonmarie, who is known to the blogosphere as Rawdorable, I don't have to.  She has created an amazingly innovative, entertaining, and useful "uncookbook" full of tantalizing raw cupcake recipes.
Her ebook details how to make the "cake," gives us several different options for yummy frostings, and even describes how to make raw fondant.  Who ever heard of healthy fondant?
Her recipes range from basic to exquisite, from Pumpkin Spice to Citrus Confetti, from Basic Chocolate to Ruby Red Chai.  I'm telling you, Shannonmarie is a genius of the cupcake world.  And she's one of those rare healthy cupcake geniuses.  (If you don't believe me, try the Zippi Zucchini Cupcake!)
The book is jam-packed with gorgeous, inspiring photographs.  I'm tempted to blow some of them up and frame them. 
The Little Rawdorable Cupcake Book That Could is available at Rawdorable for $12.95.  It will be the best thirteen bucks you've invested in a while!