By
hungry runner
on September 1st, 2010 . Filed under:
Reviews
.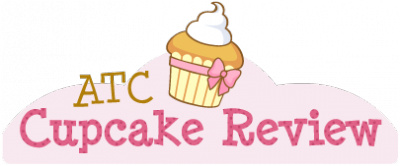 Curry Kay Designs is  a handmade textile business based out of West Hartford, Connecticut.  Since opening her Etsy shop a little over two months ago her cupcake prints featured on aprons, dish towels, and bags have been her best seller and it's easy to see why.  The apron and dish towels which came for us to review are beautiful.

The apron is absolutely gorgeous; it arrived while I was in the middle of baking earl grey cupcakes and I immediately put it on.  A bright, bold violet is complimented nicely by the light green trim and ties for the apron.  Unlike many aprons the neck piece on Curry Kay's apron is adjustable thanks to two slots and a polka dot button.  The lower corner features a big, white screen printed cupcake with sprinkles and a cherry on top.  Just above the waistline is an adorable little bird.  I really liked the apron and the dish towels matched.  The dish towels are the same rich violet and feature the same cupcake image.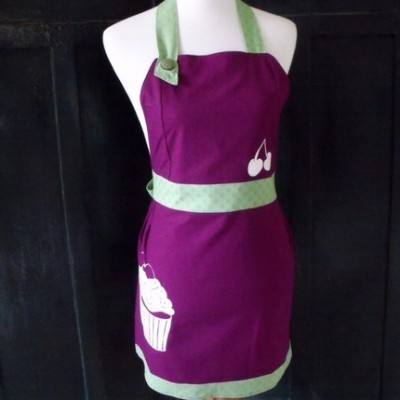 The fabric used to create the pieces is terrific quality.  Similarly the apron's sewing detail shows excellent skill. I was impressed with both the dish towels and the apron.  The pleated sides were a nice added touch which helps to compliment the wearer's body.  For the quality and visual appeal of the products Curry Kay Design's creates, the products are really affordable; The cost of aprons are $35 and dish towels are $21 for two towels.
The simple packaging the items arrived in were informal yet perfect for the products inside.  You could easily give the items as a gift in the packaging they arrive in.  As a added bonus a recipe card from Curry Kay Design's Kitchen is included.  As a baker I always enjoy reading tips from the recipe writer which CKD includes on this Banana Bread Recipe.
The products were well crafted and showed attention to detail.  There different colors and images available to choose from; making this image great to purchase for yourself or give as a gift.