By
hungry runner
on August 31st, 2010 . Filed under:
Cupcake Ideas
,
News
.
It seems as though there is always something threatening to take the cupcakes spot as a popular food trend.  First there were macaroons, then there was pie and popsicles and now it's doughnuts!  Over the last couple of months I have seen lots of recipes for doughnuts in magazines and online.  I will admit that I have even considered purchasing a doughnut pan to try out some of the recipes.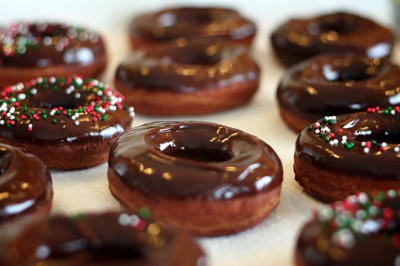 When I came across The Kitchn's post titled Trend Watch: Are Doughnuts The New Cupcake? I realized that doughnuts are making quite the comeback.  And when you think about it there are already lots of established doughnut shops and chains that have lasted years.  New and creative types of doughnuts are constantly being created but at the same time I think it is more challenging to make doughnuts gourmet like you can the cupcake.  Not that creating a gourmet doughnut is impossible considering there are Red Velvet Doughnuts on dessert menus! Cupcakes are versitile, you can enjoy them at so many different occasions, from a childs birthday to a sophisticated wedding cupcakes can suite any occasion.  Doughnuts on the other hand can be consumed any time of the day but in general they are though of as breakfast food and it is more challenging to create an elegant doughnut.
As a cupcake lover who has now read three times that a new food trend might take over the cupcake world I am beinging to think this is just a treat and the cupcake will pull through and hold it's rank a little bit longer!