By
applecupcake
on August 30th, 2010 . Filed under:
Clothing
.
New York Couture has been featured on MTV, in Elle and Glamour Magazines and has been worn by personalities such as Katy Perry and Pink.  Their website describes their look as "a harmonious blend of punk-rock cool, ultra-glam and prima ballerina."  There is no denying they are hip, modern and perfect for the ultra confident rock goddess or super cool party princess.
Best of all they have quite a range that feature the cupcake, so if you are in the market for some new cupcake wear that is very funky, definitely check them out!  This image here is of their cupcake dresses, and you can see the variety and their liberal use of color and design.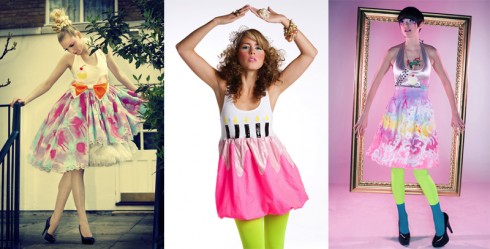 Below are more shots of their t-shirts and accessories…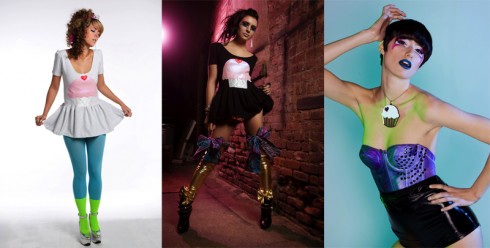 What do you think??
Personally I love it, though I am not sure where I would wear it!  I think unfortunately I am past the age where I could get away with wearing a cupcake party frock, though I so love the tights!