By
HeatherLynn
on August 23rd, 2010 . Filed under:
Cupcake Ideas
.
Hello all my fellow cupcake lovers out there! This past weekend I made mini-cupcakes for my Best Friends bridal shower.
I made just about 100 mini cupcakes half chocolate and half yellow. I used 2 batches of butter cream frosting, divided into 3rds and made Strawberry and Raspberry frosting with 2 of them and left the other one plain butter cream.
I also used a cupcake stand from Green Party Goods – Square Cupcake Stand !
Here is a picture of my lovely creation(s)!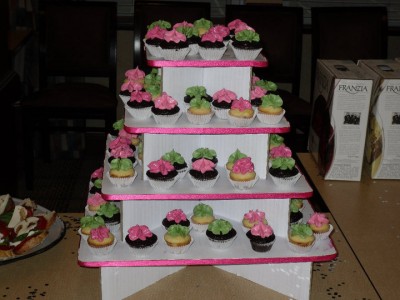 Everyone loved them! Congrats Megan!