By
cupcakeSerenity
on August 18th, 2010 . Filed under:
Recipes
,
Vegan
.
Today's newsletter from the Vegetarian Times features a vegan Glazed Chocolate-Avocado Cupcake recipe!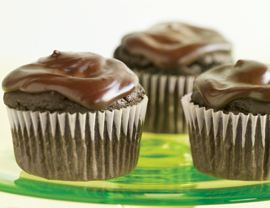 Cupcakes
1 1/2 cups all-purpose flour
3/4 cup unsweetened cocoa powder
1 tsp. baking powder
3/4 tsp. baking soda
3/4 tsp. salt
1 avocado, pitted and peeled
1 cup pure maple syrup
3/4 cup plain soymilk
1/3 cup canola oil
2 tsp. vanilla extract
Glaze
1/4 block soft silken tofu (from 14-oz. container),
   drained and patted dry
3 Tbs. pure maple syrup
1/2 tsp. vanilla extract
1/8 tsp. salt
4 oz. semisweet vegan chocolate, melted
1. To make Cupcakes: Preheat oven to 350°F. Line 12-cup muffin pan with paper liners. Whisk together flour, cocoa powder, baking powder, baking soda, and salt in bowl. Purée avocado in food processor until smooth. Add maple syrup, soymilk, oil, and vanilla, and blend until creamy. Whisk avocado mixture into flour mixture.
2. Spoon batter into prepared cupcake cups. Bake 25 minutes, or until toothpick inserted into center comes out with some crumbs attached. Cool.
3. To make Glaze: Blend tofu, maple syrup, vanilla, and salt in food processor until smooth. Add chocolate to tofu mixture and blend until smooth. Transfer to bowl. Dip tops of Cupcakes into Glaze, pulling straight up from Glaze to form peaks.
It looks pretty simple, doesn't it?  And I love to include maple syrup in my cupcakes.  I can't wait to try this!  You can sign up to have your own weekly Vegetarian Recipe delivered to your inbox here.