By
cupcakeSerenity
on August 14th, 2010 . Filed under:
Cupcake Ideas
,
Decorating
,
Recipes
.
Hop on over to From Married to Merry to learn about Meg's "semi-homemade" Hostess Cupcakes.  She's too humble to say it, but I bet they taste better than the "real thing."
She uses a cake mix for the cupcake, but her filling is homemade: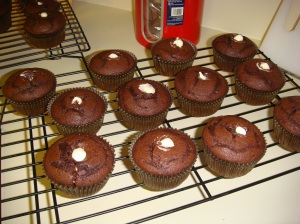 One 8 oz package cream cheese
1 jar of marshmellow fluff
1 tsp of vanilla
Mix all ingredients in a food processor.  Then chill for 30 minutes.  She recommends setting aside a little bit of the chilled filling to use as topping.  To fill the cupcakes, she used a Pampered Chef Easy Accent Decorator. 
For the ganache, she melted 3/4 cup of semi-sweet chocolate chips and mixed it with 1/2 cup heavy cream.  Once she dipped the cupcakes, she set them in the fridge so that the ganache could harden.  Then she piped the leftover filling onto the tops of the cupcakes, and voila!  Aren't they gorgeous?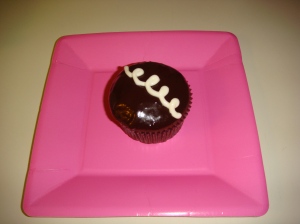 It's really too easy!  But of course, you never tell anyone how easy it is!