By
hungry runner
on August 9th, 2010 . Filed under:
Blogs
,
Cupcake Ideas
,
Recipes
.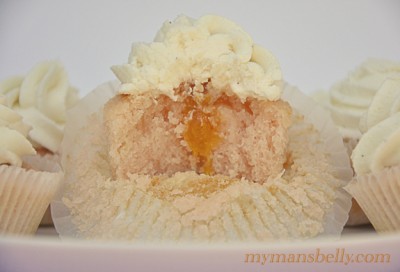 Here in North Carolina peaches are in season which means it is the perfect time to try Peach Bellini Cupcakes.  I was really excited when I came across this recipe on My Man's Belly, since after visiting Italy in the spring I fell in love with prosecco! Prosecco is an italian sparkling wine that is usually described as dry and having a flavor similar to white peach, which explains why it is paired with peached to make Peach Bellini which is a type of cocktail.
Peach Bellini Cupcakes
Makes 18 Cupcakes
Ingredients
Cupcake Recipe
1 1/2 Cups Cake Flour
1/4 Cup Corn Starch
1 Tablespoon Baking Powder
1 3/4 Cups Powdered Sugar
1 Cup (2 sticks) Unsalted Butter (room temperature)
1 1/2 Cups Egg Whites (approximately 11 large eggs)
3/4 Cup Prosecco
1 Teaspoon Almond Extract
1 Drop Red Food Coloring
3/4 Cup Peach Jam
Vanilla Buttercream Frosting Recipe
Adapted from Wilton Buttercream Frosting
1/2 Cup Solid Vegetable Shortening
1/2 Cup (1 stick) Unsalted Butter (room temperature)
1 Teaspoons Vanilla Paste
4 Cups Sifted Confectioners' Sugar (approximately 1 pound)
2 Tablespoons Milk
Directions
Cupcake Recipe
Preheat oven to 350 degrees Farenheit.
Sift flour, corn starch and baking powder to ensure that they are mixed thoroughly.
Cream sugar and butter together until mixture is light yellow in color and mixed thoroughly.
Add 1/2 of the egg whites to sugar and butter mixture (scrape down sides as necessary).
When combined, add 1/2 of the flour mixture.
Mix until smooth and add the rest of the egg whites.
Add Prosecco, almond extract and the balance of the flour mixture.  Mix until smooth.
Add 1 drop of red food coloring and continue to mix until mixture is evenly colored.
Pour into paper cup liners about 2/3 full.
Bake for 15 – 18 minutes or until a toothpick inserted in the middle comes out moist but clean.
Let cool completely before decorating.
Buttercream Icing Recipe
Add shortening and butter to a large bowl (preferably in a stand mixer) and cream together.
Add vanilla paste and continue creaming.
Gradually add the sugar to the shortening and butter mixture.  This will definitely require scraping the sides of the bowl several times as the sugar is added.  It's also helpful if you stop the mixer when adding the sugar.  This will keep the sugar in the bowl and not blowing all over you.
Once all of the sugar has been added, the icing will look dry (this is normal).  Add the milk and beat until icing is light and fluffy.
Assembly of Cupcakes
Fill a pastry bag, with medium round or star tip attached, with peach jam.
Insert tip deep into the cupcake and squeeze pastry bag while lifting it at the same time.
If you don't have a pastry bag or really want to put a lot of peach filling into the cupcakes, scoop out a small hole in the top  of the cupcake and spoon the jam into the cupcake.
Pipe icing on top of the cupcake to finish.
**Please note: these cupcakes are a little drier than what you are probably used to.  This is due to the egg whites in the batter (which are a drying agent).  They are still moist, but they are not like a boxed cake mix and super moist.