By
hungry runner
on August 1st, 2010 . Filed under:
Cupcake Ideas
,
Recipes
.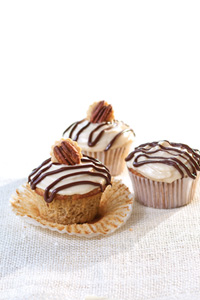 While standing in line at the grocery store this evening my sister quickly pointed out this month's issue of Taste of the South Magazine.  The August/September cover features Pecan Pie Cupcakes! In case the magazine is not sold in your local grocery store, the recipe can be found below.
Ingredients
1 cup all-purpose flour
1 teaspoon baking powder
1/4 teaspoon salt
3/4 cup firmly packed dark brown sugar
1/2 cup butter, softened
2 large eggs, at room temperature
1/2 cup whole milk, at room temperature
2/3 cup chopped pecans, toasted
1 teaspoon vanilla extract
1 recipe Brown Sugar Buttercream Frosting
1/2 cup semisweet chocolate morsels, melted and cooled
1 recipe Pecan-Topped Pastry Rounds
Directions
Preheat oven to 350°. Line 12 muffin cups with paper liners. Set aside.
In a medium bowl, sift together flour, baking powder, and salt.
In a large bowl, beat brown sugar and butter at medium-high speed with an electric mixer until light and fluffy, approximately 5 minutes. Reduce speed to low. Add eggs, one at a time, beating well after each addition, and scraping down the sides of bowl as necessary.
Add flour mixture to butter mixture, alternating with milk, beginning and ending with flour mixture. Fold in pecans and vanilla. Divide batter evenly among muffin cups. Tap pan against counter to release air bubbles.
Bake until a wooden pick inserted in the center comes out clean, 18 to 20 minutes. Let cool in pan for 5 minutes. Remove from pan, and transfer to a wire rack to cool completely.
Place Brown Sugar Buttercream Frosting in a pastry bag fitted with a large star tip. Pipe cupcakes with frosting, or spread evenly on cupcakes. (see note)
Spoon melted chocolate into a heavy-duty resealable plastic bag. Snip a small hole in corner of bag, and drizzle on frosted cupcakes.
Just before serving, top each cupcake with a Pecan-Topped Pastry Round.