By
applecupcake
on July 23rd, 2010 . Filed under:
Tattoos
.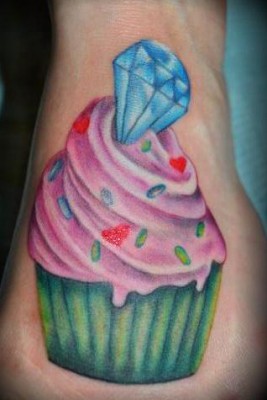 I think it is high time the phrase "diamonds are a girl's best friend" is reworked. Unfortunately diamonds can be a 'tad' expensive, so in the place of the diamond (while we work on our boy to buy them for us) we need a substitute!  Hello little adorable cupcake!
My proposal is that from now on it should be "cupcakes and diamonds are a girl's best friend".  So given that, I couldn't believe my eyes when Kiwi sent in a picture of her recent tattoo!  On top of this cupcake is a diamond for which any girl would be proud, though I do recommend removing any real diamonds or rings (what a fantastic way to propose) before consuming!
Kiwi's tat is on her foot and was designed by Reno of High Class Tattoo in Fresno, Ca. So too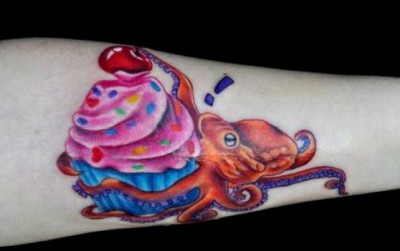 was her best friend Amy's cupcake tattoo, which is of a cupcake loving octopus.
Leslie's tattoo (below left) is on her back and features a cute and sassy mix of heart candy and swirls designed by Kristel Oreto who owns Crimson Anchor Tattoo in Florida.
Last but not least is another cupcake with candy! Clare's fiance Martin got this cupcake tattoo (below right) for her birthday!  The candy in this case has a special meaning being the same messages were given to Martin by Clare when she gave him his engagement ring.  The tattoo was done by Jimmy at GB Tattoos in the UK.