By
applecupcake
on July 19th, 2010 . Filed under:
Bakeries
,
News
,
Television
.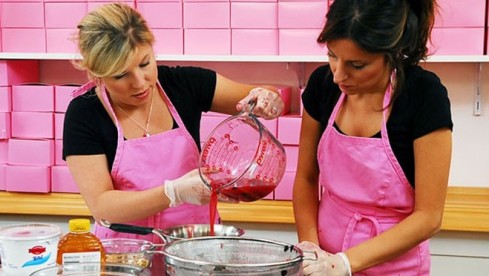 Seems to be the question that Jeff Houck from The Tampa Tribune is asking after TLC's airing of DC Cupcakes on Friday night.  DC Cupcakes is an inside look at the world of Sophie LaMontagne and Katherine Kallinis of Georgetown Cupcake in Washington, D.C. Both ladies gave away their corporate jobs in venture capital and fashion respectively to open the store, which now attracts hour-long queues for their cupcakes.
Houck takes a light poke at both the show and TLC, who he states "used to be called The Learning Channel until it realized viewers were averse to mixing education and television".  With other shows such as 'Ace of Cakes', 'Cake Boss', 'Ultimate Cake Off' and 'Cupcake Wars' he thinks we have gone too far and longs for the days where there were more episodes of Law & Order than cake shows.
What do you think?  Have we reached cake saturation with our shows?  In Australia we have no dedicated cake shows, and our educational stations are still giving on the whole educational content.  So I am in favor of MORE cupcake shows. What about for you? And with five more episodes to go of DC Cupcakes, will you be tuning in or out?