By
applecupcake
on July 9th, 2010 . Filed under:
Bakeries
,
Other
.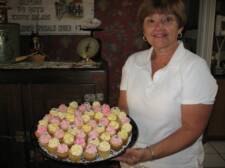 Every bakery has a story, about the people and the passion that over time, combined with lots of hard work has formed part of its success.  In this particular case, Joanne (now 62) proved that there is no barrier, not even age there to stop you from living your dream.
Joanne gave away her career in nursing and with her husband opened a home based cupcake bakery in Naples after recognizing that although there was a cupcake craze sweeping the nation, it hadn't yet reached them.  Every Saturday she would be up early to sell her cupcakes at the Farmer's Market, and every week she would sell out.  Joanne, without the money to invest in a physical store, decided instead to build an online cupcakery.  They established the website and are now the successful owners of  Simply Cupcakes of Naples.
Joanne and her husband Ken, learned a lot from the numerous trials and errors they faced over the past years of building their cupcake business from Farmers Market to retail store and now have extended their business model to include Cupcake Training.  This isn't 'how to bake a cupcake' but a concise series of training sessions on how to establish your own cupcake business.  In fact if you are interested, the 2010 session is due to be held on July 30 to Aug 2 and more information can be found on their website.