By
applecupcake
on July 7th, 2010 . Filed under:
Tattoos
.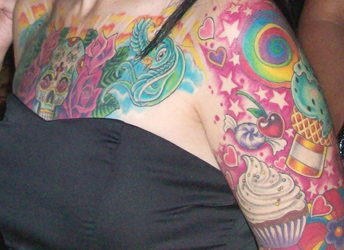 Is it pink and pretty or evil and foreboding?  It surprises me how much variation we see in the different styles and takes we receive on the cupcake when it becomes art.  This collection is no different.
Melissa (right) had her Tattoo sleeve designed by Dana Tyrell in Santa Rosa at Inky Cells Tattoo Co. and says that her inspiration was her sweet and loving daughter Denae.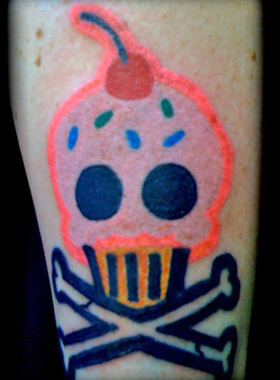 On the right, Lori from Liberty Tattoo has sent us this darker style cupcake which comes complete with skull, bones and a cherry! Lori designed and completed this tattoo for her cousin Kim.
Where as Miss Ronda (below) from Rocking Rolling Pin has been a long time lover of cupcakes and tattoos, owning her own cupcake business in February this year. She decided to get her very cute tattoo after viewing the cupcake tattoos in our tattoo gallery. Her tattoo was done by Tom Tilden at Rubes Tattoo in Arcadia, California.
As you can see, this group really explores the diversity of what you can do with a cupcake tattoo, I really like the idea here of incorporating the spatula and whisk of Miss Ronda's!