By
cupcakeSerenity
on July 6th, 2010 . Filed under:
Announcements
,
Television
.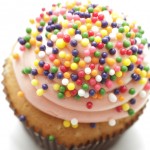 Would you like to be part of the next Cupcake Wars? 
              Here's your chance! 
                       And here's the official casting call …
NOW CASTING SEASON 2 OF THE FOOD NETWORK'S HIT NEW COMPETITION SHOW, "CUPCAKE WARS"!
 We are casting bakers (store owners, caterers, pastry chefs, new bakers…)
NATIONWIDE, so get in touch with us ASAP to apply for the show.
 If you think you and your cupcakes have what it takes to compete against the best bakers in the country, then we want to hear from YOU! The winner of the show will have their cupcakes featured at a HOLLYWOOD EVENT and receive WORLDWIDE PRESS!  The winner of each episode also wins $10,000!!!
 We're looking for great bakers with AMAZING personalities in every city.
 To be considered for the show, please e-mail us your name, phone number, photo (and website if available!) to: CupcakeWarsCasting@gmail.com
Be sure to tell us what makes you the perfect candidate for "Cupcake Wars"!